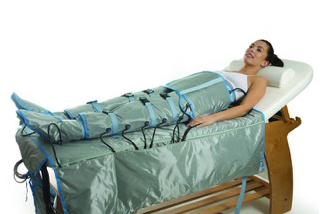 3 in 1 EMS + infrared + pressure therapy - slim device.
What is Lymphatic Drainage Pressotherapy?
Pressotherapy is a relaxing and toning compression therapy system designed to win the battle against cellulite and body aging. It consists of a pump that generates a directed flow of compressed air with variable pressure on the problem areas, which relieves stagnation throughout the body. It has a beneficial effect on blockages and swellings in the body's water and makes it flow again.
How does pressotherapy affect your body?
Circulatory system: The massage improves blood circulation through a gentle unidirectional peristaltic pressure on the peripheral veins, blood circulation is improved, the elimination of toxins is facilitated and more fresh oxygen reaches the skin cells.
Digestive system: compression and massage of the abdomen. The result is a relaxation of the abdominal muscles and at the same time a healthy stimulation of bowel movements and a more efficient evacuation of toxin contents.
Lymphatic system: Lymphatic flow is improved. Lymphatic flow is improved in both peripheral and deep lymphatic networks. The results are the evacuation of metabolic waste from the interstitial spaces. The immune system also benefits from this. The treatment activates the entire lymphatic system, which is then excreted through the kidneys and bladder. Gentle, rhythmic pressure waves that start at the feet and slide over the calves, thighs, and buttocks to the neck in a few seconds create a feeling of lightness in the body, while reducing the circumference of the legs, the hips and buttocks. , waist and arms.
Recommended areas: abdominal area, arms, legs and hips. Lymphatic massage acts against cellulite, the formation of varicose veins and spider veins. The elimination of toxins is favored.
Indications
-Improve blood circulation, normalizing the function of the blood vessel system.
-Normalization of the function of the lymphatic system, stimulation of toxins, cleaning of the organism
-Relief edema of the extremities
-Weight reduction, body shaping, cellulite treatment.
-Stretching of connective tissue
-Restorative effect of the muscles, improving muscle tone
-swollen and heavy legs
-Lymphedema
-Overcome fatigue, relaxation
Contraindications
-During menstruation
-The pregnancy
-Acute fibrous diseases
– Ulcers or acute inflammation
-Heart failure
-Thrombosis
-If you have extremely low or high blood pressure
-In the case of venous or lymphatic outlet obstructions
-Cancer
-Infectious diseases
-Chronic alterations of organs.
Price
CHF 90.–/ Treatment
Reservation of 8 Treatments CHF 480.