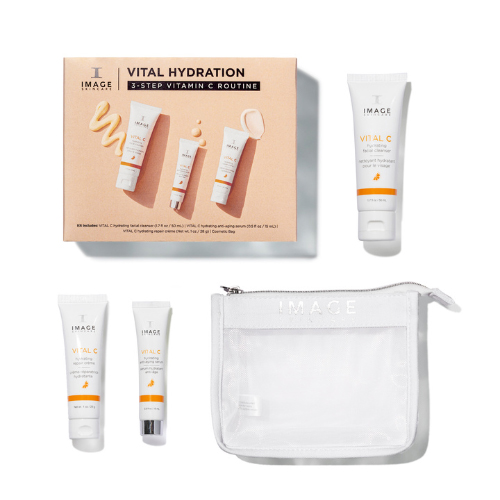 Vital C Hydration Travel Set
This rich 3-part care routine intensively moisturizes, nourishes and gives your skin a radiant appearance with various forms of vitamin C, antioxidants and hyaluronic acid.
Set contents:
VITAL C hydrating facial cleanser (50 ml)
A creamy, hydrating vitamin C facial cleanser that gently removes makeup and impurities.
VITAL C hydrating anti-aging serum (15 ml)
A hydrating multi-vitamin C serum that helps reduce wrinkles, combat environmental damage and leave skin looking radiant.
VITAL C hydrating repair cream (28 g)
An intensively nourishing and nourishing night cream that revitalizes dry skin and combats signs of aging such as fine lines and wrinkles.
Transparent cosmetic bag With the transparent bag you can take your favorite products with you everywhere.
Contents
Areas of application
Inc
Contents
VITAL C hydrating facial cleanser (50 ml), VITAL C hydrating anti-aging serum (15 ml), VITAL C hydrating repair crème (28 g)
Areas of application
Inc