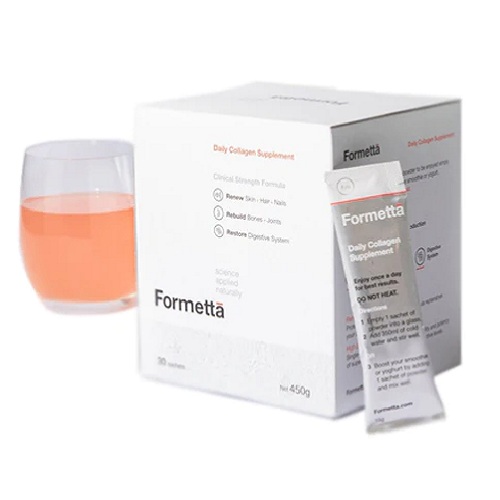 Everyday Collagen Supplement (30 sachets)
Combat common age-related issues with this everyday collagen supplement. A convenient and practical way to supplement with potent, high-quality collagen peptides and specially selected co-ingredients.
revenue
Mix one sachet of Formettā with liquid, a smoothie, or yogurt and consume as is, once daily.
Do not heat. Store cool and dry.
Nutritional Information*
Servings per pack: 30
Serving size: 15 g (1 sachet)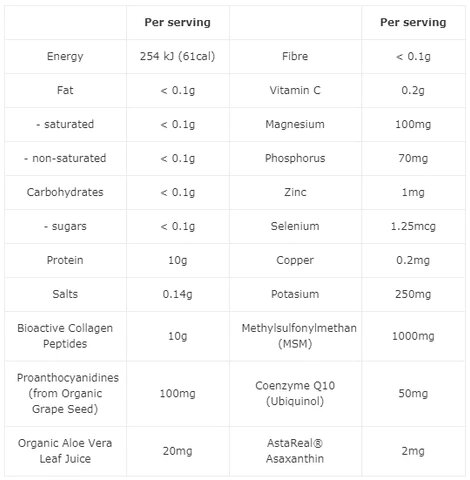 * Ausschliesslich auf berechneten Werten basierend
Überschreiten Sie nicht die empfohlene Tagesdosis einer Portion (15 g)
Inhaltsstoffe
Bioaktive Kollagenpeptide, Mineralpulver mit Natürliches Zitronenaroma, MSM-Pulver, Bio-Acerola-Pulver (Vitamin C), Bio-Traubenkernextrakt, Bio-Aloe-Vera-Blattsaftpulver, Coenzym Q10,Bio-Stevia-Blattextrakt, Natürliches AstaReal®-Astaxanthin (aus Mikroalgen), Zitronensäure.
Glutenfrei | Laktosefrei | Soja-frei | Zuckerfrei
ohne Konservierungsmittel | ohne künstliche Süssstoffe | ohne GVO (genetisch veränderte Organismen)